Antengene Partners with SAP to Implement an Automated Digital Enterprise Management System
View PDF
Shanghai and Hong Kong, PRC, January 29, 2021 — Antengene Corporation Limited ("Antengene", SEHK: 6996.HK), a leading innovative biopharmaceutical company dedicated to discovering, developing and commercializing therapeutics in hematology and oncology, today announced an agreement with SAP on the implementation of an automated and intelligent enterprise management system. With this agreement, Antengene has selected the SAP S/4 HANA Cloud and SAP Customer Experience suite to advance its digital transformation and to lay a solid foundation that will prepare the company for its next phase of rapid growth.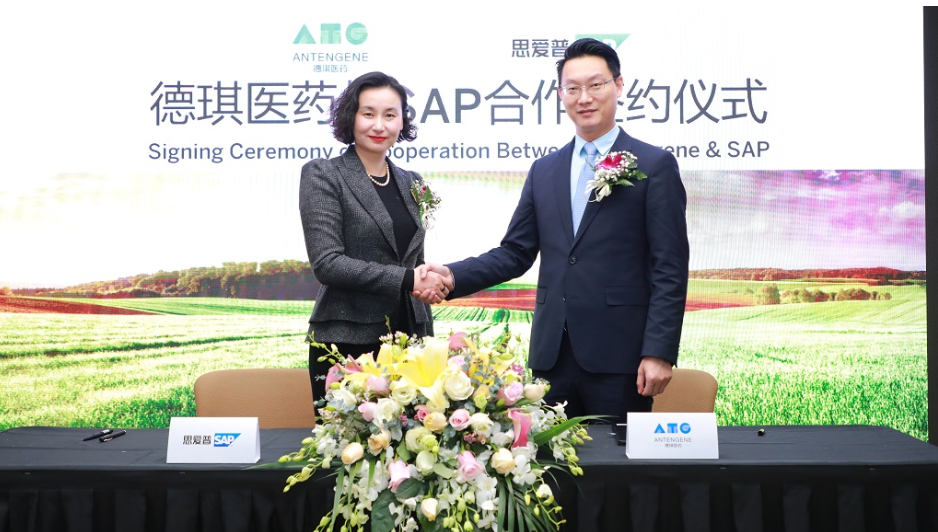 Antengene is an innovative biopharmaceutical company that aims to serve patients in the Asia Pacific region and around the world, through its operations in drug discovery, clinical development, manufacturing, and commercialization. Since its inception in 2017, Antengene has built a rich and differentiated pipeline of oncology-focused assets. In November 2020, Antengene was successfully listed in the Hong Kong Stock Exchange, as one of the company's lead candidates, a first-in-class oral selective inhibitor of nuclear export (SINE) compound entered the commercialization stage. After four years of rapid growth, Antengene is steadily transitioning into an international conglomerate that is committed to achieving high-quality growth and an efficiency-focused management through an automated and intelligent enterprise management system. Adopting the SAP S/4HANA Cloud as the core ERP system and with technical support adapting the system to the company's organizational structure, financial management, process management, and operational analytics, Antengene will be able to further optimize the process of its core operations and achieve digital transformation in its enterprise management.
"In the coming years, Antengene will advance a number of its investigational assets into clinical development and is expected to launch its lead candidate in certain Asia-Pacific markets. These developments will propel us into the next phase of rapid growth in R&D, building of our commercial operations, and enterprise management," said Mr. Yiteng Liu, Chief Operating Officer of Antengene. "To fully prepare the company for future accelerated growth, we are partnering with SAP to deploy an automated and intelligent enterprise management system. We hope this integrated ERP platform will facilitate our digital transformation in operations and management, optimize inter-departmental collaborations, and further improve our organizational and cost efficiency."
"Antengene is a leading biopharmaceutical company dedicated to the development of innovative oncology drugs. Under the leadership of Dr. Jay Mei, Antengene has stayed true to its founding mission of 'treating patients beyond borders and transforming their lives through perpetual innovation', making bold and groundbreaking moves to develop innovative therapies for patients devastated by life-threatening diseases," remarked Mr. Yiping Zhan, Shanghai Regional Director for Enterprise Solutions at SAP China. "Akin to Antengene's relentless pursue of first-in-class and best-in-class therapies, SAP is also determined to be a leader in its market. Since our establishment in 1972, we have been committed to helping our customers to achieve operational excellence. Our mission is to build smart enterprises for our clients, and help them to achieve business objectives by improving the visibility, focus, and agility of their operations. We hope our joint efforts will improve the lives of mankind and make the world a better place."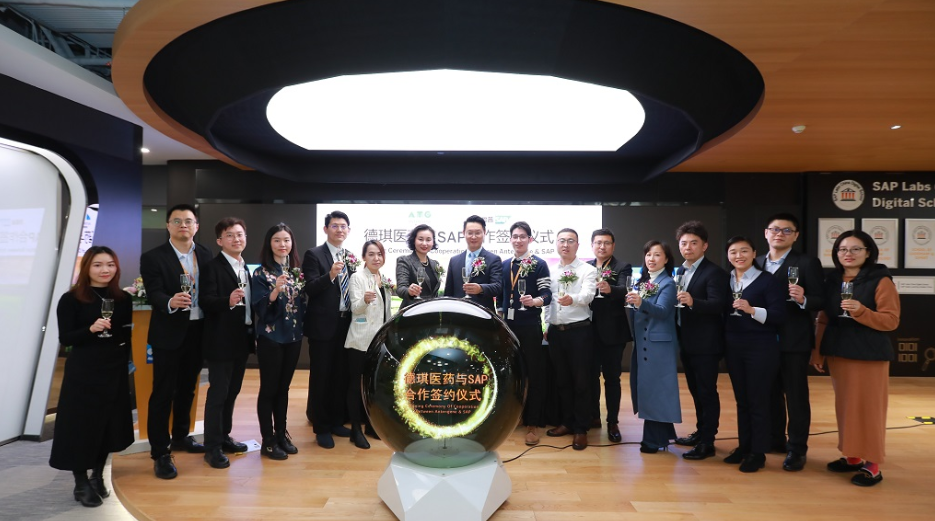 About Antengene
Antengene Corporation Limited ("Antengene", SEHK: 6996.HK) is a leading clinical-stage Asia-Pacific biopharmaceutical company focused on innovative oncology medicines. Antengene aims to provide the most advanced anti-cancer drugs to patients in China, the Asia Pacific Region and around the world. Since its establishment, Antengene has built a pipeline of 12 clinical and pre-clinical stage assets and obtained 12 investigational new drug approvals in Asia Pacific. The vision of Antengene is to "Treat Patients Beyond Borders". Antengene aims to address significant unmet medical needs by discovering, developing and commercializing first-in-class/best-in-class therapeutics.
About SAP
As the Experience Company powered by the Intelligent Enterprise, SAP is the market leader in enterprise application software, helping companies of all sizes and in all industries run at their best: 77% of the world's transaction revenue touches an SAP® system. Our machine learning, Internet of Things (IoT), and advanced analytics technologies help turn customers' businesses into intelligent enterprises. SAP helps give people and organizations deep business insight and fosters collaboration that helps them stay ahead of their competition. We simplify technology for companies so they can consume our software the way they want – without disruption. Our end-to-end suite of applications and services enables more than 440,000 business and public customers to operate profitably, adapt continuously, and make a difference. With a global network of customers, partners, employees, and thought leaders, SAP helps the world run better and improve people's lives.
Forward-looking statements
The forward-looking statements made in this article relate only to the events or information as of the date on which the statements are made in this article. Except as required by law, we undertake no obligation to update or revise publicly any forward-looking statements, whether as a result of new information, future events or otherwise, after the date on which the statements are made or to reflect the occurrence of unanticipated events. You should read this article completely and with the understanding that our actual future results or performance may be materially different from what we expect. In this article, statements of, or references to, our intentions or those of any of our Directors or our Company are made as of the date of this article. Any of these intentions may alter in light of future development.