Antengene and WuXi STA announced a strategic cooperation in process R&D and manufacturing
View PDF
SHANGHAI, China, July 21, 2018 – Antengene and WuXi STA, a subsidiary of WuXi AppTech, which is a global leader of Contract Development and Manufacturing Organization (CDMO), recently signed a strategic cooperation agreement. WuXi STA will provide "end-to-end" one-stop service for Antengene in process R&D and manufacturing. Antengene will accelerate the development of new drugs with the help of the Marketing Authorization Holder (MAH) system. Dr. Chen Minzhang, CEO of WuXi STA, and Dr. Jay Mei, Chairman of Antengene, attended the signing ceremony.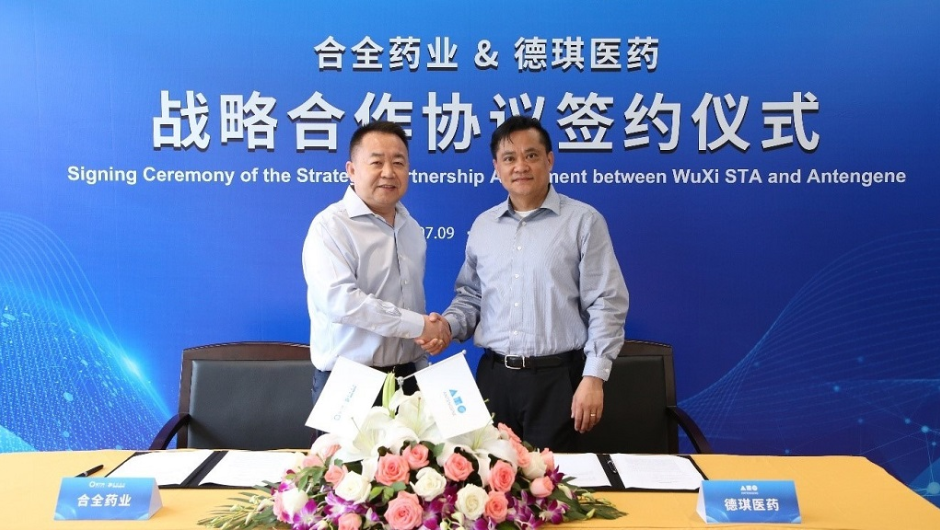 Dr. Chen Minzhang (Left), CEO of WuXi STA, and Dr. Jay Mei (Right), Founder of Antengene
WuXi STA has an integrate CMC platform, from preclinical to commercialization and from APIs to formulations, as well as a quality system that meets global standards. The cooperation will focus on projects at clinical trial stage and products at commercialization phase, Starting with the first clinical trial phase project (ATG-008), the cooperation will further expand into the areas of solid tumor, blood tumor and viral infection. WuXi STA will provide Antengene with services including process R&D of formulations and manufacturing of the drugs for clinical trials. In addition, based on Antengene's second/ third phase pipeline products, the two parties will cooperate on commercialized production during future marketing of the products.
Antengene has currently several projects in clinical development stage, covering the areas of solid tumors, blood tumors and viral infections. Among them, ATG-008 is the world's first TORC1/2 dual-targeted inhibitor for patients with HBV+ advanced liver cancer and its International Multicenter Clinical Research (TORCH) in Asia Pacific has started patient enrollment in China, Taiwan and South Korea.
According to Dr. Chen Minzhang, Ceo of WuXi STA, "Empowering customers and helping them accelerate the process of new drugs development from clinical to commercialization is the mission of WuXi STA. We are honored to be a strategic partner of Antengene, and look forward to the future cooperation of the two sides in order to provide more new drugs on the market at an earlier date for the benefit of more patients. "
"We are very pleased to have signed a strategic cooperation agreement with a WuXi STA, a renowned drug research and development company in the industry."said Dr. Jay Mei, founder, chairman and chief executive officer of Antengene, "With the help of WuXi STA, we can accelerate our progress from clinical to commercialization. In addition to the ongoing ATG-008 study, Phase II/III clinical studies of ATG-010 for the treatment of multiple myeloma will also be launched this year. Today is just a beginning. We have a broad space for future cooperation".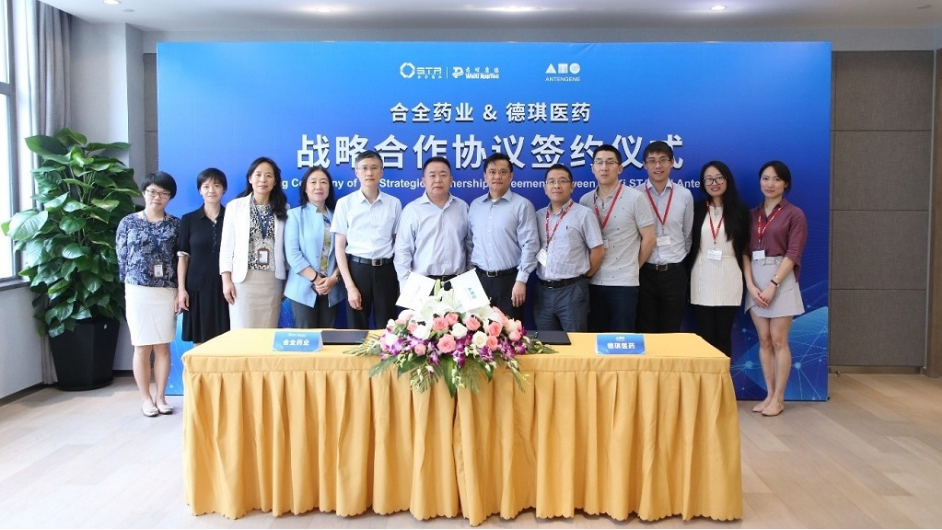 Team photo of both sides
About WuXi STA
STA Pharmaceutical Co., Ltd., a WuXi AppTec company (WuXi STA), is a global leading small molecule pharmaceutical development and manufacturing capability and technology platform company serving the life science industry, with operations in China and the United States. As a premier Contract Development and Manufacturing Organization (CDMO), STA offers our worldwide partners efficient, flexible and high-quality solutions for small molecule Active Pharmaceutical Ingredients (APIs) and finished dosage forms. For more information, please visit the company website at www.STApharma.com.cn
About WuXi AppTec
WuXi AppTec (SHSE: 603259) provides a broad portfolio of R&D and manufacturing services that enable companies in the pharmaceutical, biotech and medical device industries worldwide to advance discoveries and deliver groundbreaking treatments to patients. As an innovation-driven and customer-focused company, WuXi AppTec helps our partners improve the productivity of advancing healthcare products through cost-effective and efficient solutions. With industry-leading capabilities such as R&D and manufacturing for small molecule drugs, cell and gene therapies, and testing for medical devices, WuXi AppTec's open-access platform is enabling more than 3,700 collaborators from over 30 countries to improve the health of those in need – and to realize our vision that "every drug can be made and every disease can be treated". For more information of the company, please visit the company website: www.wuxiapptec.com
About Antengene
Antengene Corporation is a clinical-stage biopharmaceutical company focused on drug discovery, clinical development and the commercialization of innovative therapeutics to meet unmet medical needs. Antengene aims to provide the most advanced and first-in-class anti-cancer drug treatments for patients around the world. On April 13, 2017, Celgene Corporation (NASDAQ: CELG), a global leading innovative biopharmaceutical company became a long-term strategic partner and obtained an equity position in Antengene. Antengene's pipeline includes six commercial and clinical stage products: ATG-010 (selinexor), in combination with the corticosteroid dexamethasone, has been approved by the U.S. Food and Drug Administration, for the treatment of adult patients with relapsed or refractory multiple myeloma. The compound is also in late clinical development for various other hematologic malignancies and solid tumors. ATG-008, a second-generation dual mTORC1/2 inhibitor, is in a multi-regional clinical trial for treatment of hepatocellular carcinoma and multiple other solid tumors. Two other Phase 1 and Phase 2 clinical stage drugs, ATG-016 and ATG-019, are being studied in multiple cancer types, including MDS, colorectal and prostate cancers. ATG-527 is being explored for multiple anti-viral indications, including respiratory syncytial virus (RSV), and Epstein-Barr virus (EBV) related diseases, etc. ATG-017 is a potent and selective small molecule extracellular signal–regulated kinases 1 and 2 (ERK1/2) inhibitor, in clinical development for multiple solid tumors. Antengene drug discovery team focuses on development of first-in-class novel products.