ATG-008, China's first TORC1/2 dual-targeted inhibitor of the new generation, has obtained IND approval
View PDF
On June 13, 2018, Antengene Corporation announced that ATG-008, a new Category I drug developed by the company for the treatment of advanced hepatocellular carcinoma (HCC), is successfully approved by the National Medical Products Administration. ATG-008 is China's first TORC1/TORC2 kinase dual-targeted inhibitors of the new generation that acts on the mTOR pathway. ATG-008 I is a Category I drug supported by "Special Approval Process" and it took less than five months from the submission of clinical trial applications to the formal approval, which fully reflects the national support for innovative antineoplastic.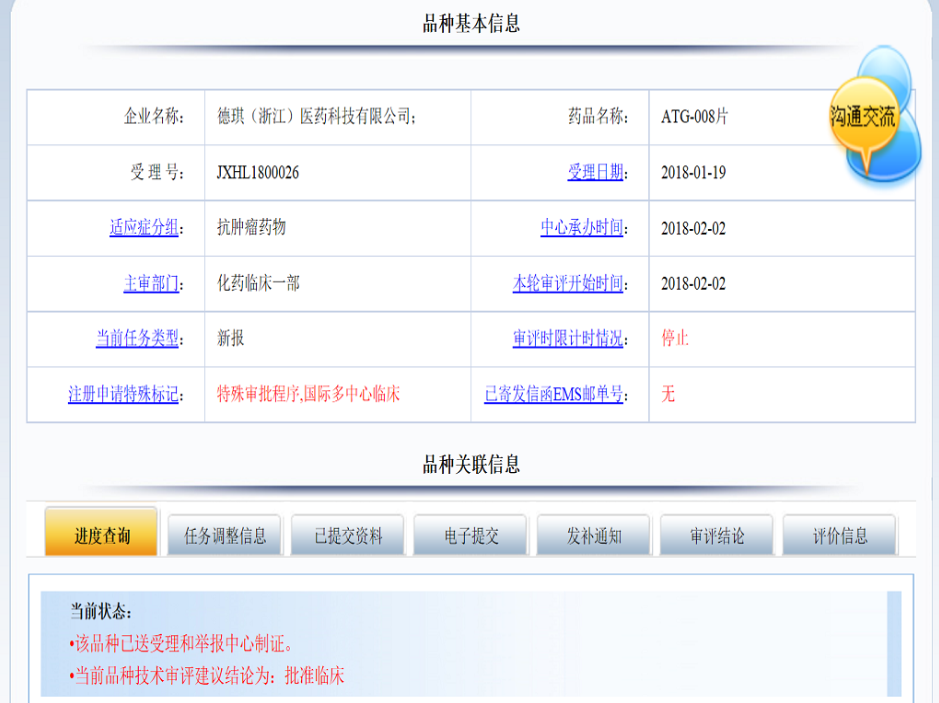 Source: Center for Drug Evaluation, National Medical Products Administration
ATG-008 is the first innovative drug developed by Antengene that is approved for clinical trials in the Asia-Pacific region and also the first drug of its kind in the world to be approved for clinical trials of advanced liver cancer. At present, Antengene is carrying out clinical development of ATG-008 as both monotherapy and combined therapy for the treatment of various solid tumors.
Previously, 452 subjects had participated in the trial of ATG-008 in the United States and the EU, and the clinical trial data of Phase 2 shows that ATG-008, as the mTOR dual-targeted inhibitors of the second generation, has its unique advantages in terms of safety, tolerance and effectiveness. In particular, for advanced liver cancer patients caused by HBV+ (hepatitis B virus), the median survival time is extended from 5.3 months to more than 12 months after the failure of Sorafenib or chemotherapy in the trial. This shows significant efficacy for HBV+ subjects. There is a large population of liver cancer patients in China and no specific drug against it. ATG-008 is especially useful for HBV+ HCC patients, which account for more than 85% of liver cancer patients in China. This drug id in line with overall conditions of China so that it has significant social benefits.
Antengene has successfully obtained the approval of investigational new drug (IND) application by the Taiwan Food and Drug Administration (TFDA) of China on March 23, 2018. From the submission to the approval, the whole process took less than two months. Besides, ATG-008 is expected to be approved of IND by the Ministry of Food and Drug Safety (MFDS) of South Korea by the end of the month. On May 25, 2018, the launch ceremony of the TORCH (Trial Name) clinical trial for liver cancer and the Investigator Meeting was held in Hangzhou, China, which marks that Antengene begins to carry out the Asia-Pacific International Multi-Center Clinical Study in Taiwan, China, Chinese mainland and South Korea.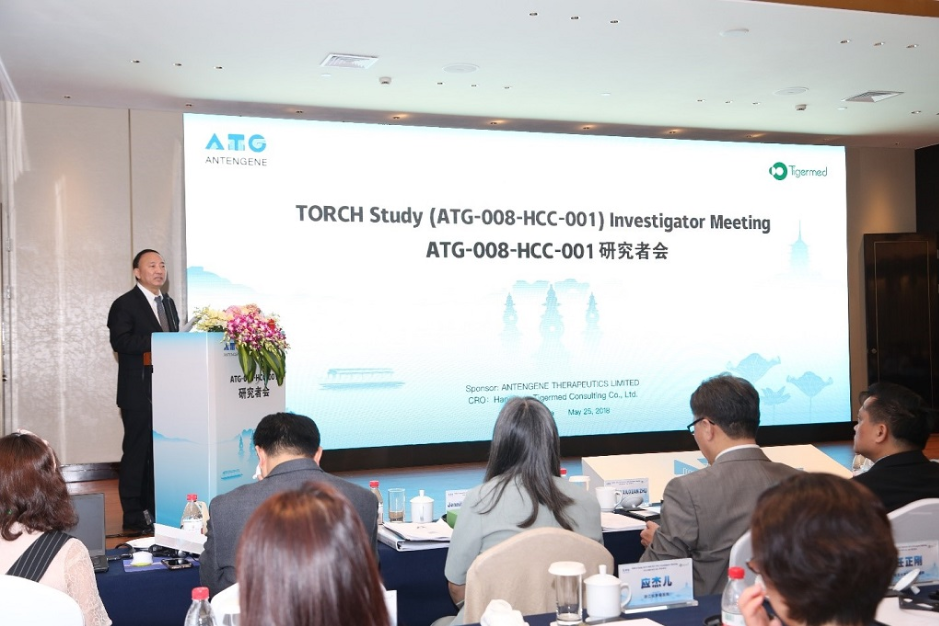 Professor Qin Shukui is giving speech at the Investigator Meeting
According to Professor Qin Shukui, a member of the National Committee of the Chinese People's Political Consultative Conference(CPPCC), director of the PLA's All-Army Oncology Center, vice chairman of the Chinese Society of Clinical Oncology and vice president of the Nanjing People's Liberation Army's 81 Hospital, "Liver cancer is the 'king of cancer'. Liver cancer severely threatens the health of Chinese people. Globally, nearly 810,000 new liver cancer cases are reported each year, of which 460,000 are in China, accounting for more than 55%. Besides, more than half of the mortality of liver cancer patients happens in China. Due to the high degree of heterogeneity of liver cancer, many new drugs have failed in clinical trials for the treatment of liver cancer, so far there are few innovative drugs to treat advanced liver cancer. As a new TORC1/2 dual-targeted inhibitor, ATG-008 will bring hope to liver cancer patients in China and Asia. Completing the ATG-008 TORCH clinical trial with high quality will accelerate the development of new treatments for HBV+HCC patients. "
According to Dr. Jay Mei, founder and CEO of Antengene, with a number of products entering the 2/3 phase of clinical stage, this year will be a "harvest year" of IND approval for Antengene, but patients could only share the results of global development of innovative drugs once the drugs come into the market. Therefore, this year is also a "sowing year". The clinical approval of ATG-008 in Chinese mainland represents the achievement of the previous work of all colleagues as well as a new beginning. It would not be much of a stretch to say that the company is currently "Do all things for all of clinical research" and the ultimate goal of the company is to make patients in China and Asia-Pacific region benefit from drugs soon. Antengene will always adhere to the clinical research spirit of "rigorous, scientific, patient-centered" and the wishes of "Treating patients beyond borders" Antengene will perform high-quality ATG-008 clinical trials and work hard for the promotion of drugs.
About Antengene
Antengene Corporation is a biopharmaceutical company focused on drug discovery, clinical development and the commercialization of innovative therapeutics to meet unmet medical needs. Antengene aims to provide the most advanced and first-in-class anti-cancer drug treatments for patients around the world. On April 13, 2017, Celgene Corporation (NASDAQ: CELG), a global leading innovative biopharmaceutical company became a long-term strategic partner and obtained an equity position in Antengene. Antengene's pipeline includes six commercial and clinical stage products: ATG-010 (selinexor), in combination with the corticosteroid dexamethasone, has been approved by the U.S. Food and Drug Administration, for the treatment of adult patients with relapsed or refractory multiple myeloma. The compound is also in late clinical development for various other hematologic malignancies and solid tumors. ATG-008, a second-generation dual mTORC1/2 inhibitor, is in a multi-regional clinical trial for treatment of hepatocellular carcinoma and multiple other solid tumors. Two other Phase 1 and Phase 2 clinical stage drugs, ATG-016 and ATG-019, are being studied in multiple cancer types, including MDS, colorectal and prostate cancers. ATG-527 is being explored for multiple anti-viral indications, including respiratory syncytial virus (RSV), and Epstein-Barr virus (EBV) related diseases, etc. ATG-017 is a potent and selective small molecule extracellular signal–regulated kinases 1 and 2 (ERK1/2) inhibitor, in clinical development for multiple solid tumors. Antengene drug discovery team focuses on development of first-in-class novel products.